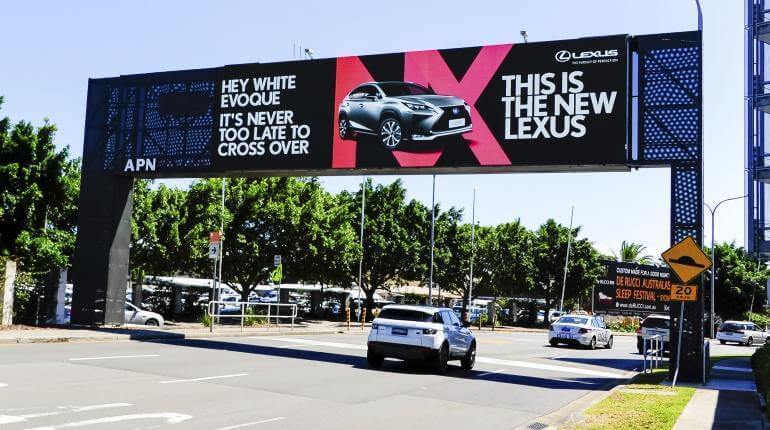 Billboard advertising is one of the most popular types of outdoor advertising, because of its sheer size and impact. To define what it is, a billboard is a large structure, which is typically found in high-traffic areas such as highways and express-ways, that advertise a given product or service in the hopes that consumers will take notice and be able to recall it. It's very attention-seeking, and it makes a brand known in an outdoor environment. The United States takes full advantage of billboard advertising, and this post will show you just how they do it.
Billboards in The U.S.
The United States has more than 2 million outdoor advertising displays. Out of all the outdoor advertising types, billboards represent around 17% in the United States and it accounts for about 65% of the total out of home advertising revenue.
Here are some facts and statistics which will help us understand how billboard advertising works in the United States and the number of people that view a billboard advertisement.
– Americans spend more than 70% of their day outside of their homes, and every week 96% of those are exposed to out of home advertising while driving a vehicle
– the average time for which a traveller sees an advertisement is 7 seconds
– about 71% of the viewers remember the ad they see on a billboard
– around 56% of the viewers talk about a funny billboard ad
– 32% of the total viewers visit the establishment during the first week they see the advertisement
– also, out of the last percentage, 24% tend to visit the establishment on the same day.
Digital Billboards
Digital billboards were first installed in the year 2005. Currently, there are about 6700 digital billboards across the United States. New York spends most on Outdoor advertising out of all American States. The top outdoor advertiser in the United States is McDonald's, while globally it is Proctor & Gamble.
Most of the big brands still use billboards, whether it's static or digital. And, sometimes, it's not only brands that use them- it's BANDS. Take an example from the famous American band Guns N' Roses, when Axl Rose (the lead vocalist) ended a 23 year feud with his former Guns N' Roses bandmates, Duff McKagan and Slash. Axl agreed to reunite with them onstage in 2016, but the band unveiled its North American tour in an unusual way. There were no news conferences or talk show chats, no electronic buzz about the reunion from their ends. Instead, electronic billboards featuring the band's logo and famous song titles began popping up in major cities across the country. The ads created buzz on social media, with fans posting photos of the billboards on Facebook, Twitter, Instagram and elsewhere, and ticket sales for the band's shows took off.
But Guns N' Roses isn't alone; The Rolling Stones used a similar billboard approach to tease fans before the band's 2015 summer tour. Big brands, including McDonald's and Comcast, have been using billboards to promote their products for a long time but, now, even tech companies such as Foursquare, Lyft and Snapchat use them. Indeed, billboard companies are not only surviving — they're flourishing. And the U.S. is lifting these billboards into existence time and time again.
Spending on Billboard in the States
Spending on OOH advertising, which includes stand-alone billboards, on various modes of transit and airport has risen for 24 consecutive quarters, according to the Outdoor Advertising Association of America. Spending increased to $7.3 billion in 2015 from $5.9 billion in 2009. Examining these cost facts, it is clear that billboard advertising in the States is only moving upward.
Why People Notice Billboards
People are spending more time outside their homes because of an increase in travel and commuting, but also because smartphones keep them connected while they are away from home or work. The New York Times alludes to the evolution of billboards, while also pinpointing the way Guns N' Roses used them to connect with fans on a spectacular level.
Now, electronic billboards are everywhere; along highways, on the side of buildings, outside bus shelters, on public benches, in airports, elevators, subways, and malls. Many are digitized- able to show videos, stream live events, display content from social media, or change a screen's image every 30 seconds.
Some billboard displays are interactive, containing sensors and codes that people can scan with their smartphones to take them to a specific destination online.
People can discuss "new" v/s "old" media, but what matters is whether people see your ad in the first place and how lasting of an impression it was. With billboards, the chances of this are pretty great. Billboards remain just as noticeable today as they did more than 100 years ago when they first started lining America's growing roadways.
Now, with digital displays and tech advancements, billboards are unmistakeable marketing machines. They further a campaign, and add to a digitized environment.
Looking at the number of billboards in the U.S., the way the US uses billboards, how bands and brands take advantage of them, and the high visibility, we can conclude that this OOH frenzy is far from slipping through the cracks of a more digital age. They're keeping up with modernity, whether in the States or elsewhere in the world.