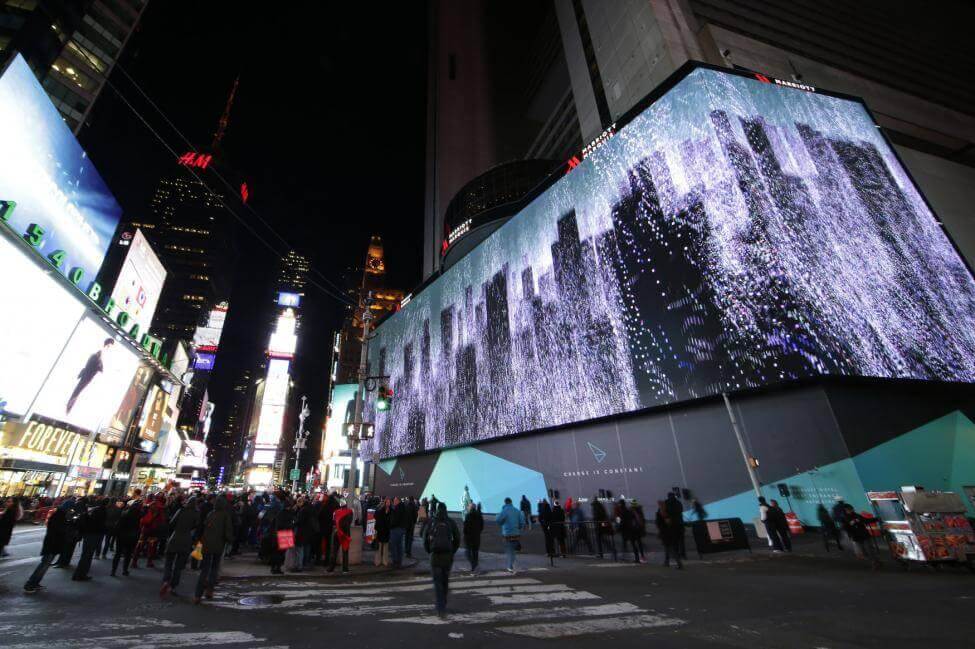 In North America, billboards big and small rock the outdoor advertising medium. Sometimes, we come across a spectacular campaign that stands out among the rest. Whether due to its size, message, or creative design, billboards have the ability to convey surprise and interest. In the billboard business, being "big" doesn't always have to do with the actual size. A booming, commanding presence can work just as well to get the attention of people passing by. A billboard that stretches the limits of our imagination in an outside environment makes for a big reaction. Let's take a look at five of the biggest billboards in North America and see how they work as an isolated advertising technique.
Digital Billboard in Times Square, New York
The biggest, and one of the most expensive, billboards to rent in North America happens to be in one of the busiest and most tourist filled attractions in the world. It's no wonder that Times Square houses a digital billboard that's about the size of a football field, apparent to everyone in Manhattan. This mighty billboard features about 24 million pixels and is so expansive, in fact, that it wraps around the entire Marriott Marquis Hotel.
Google was the first client to rent this billboard space, which costs approx. $2.5 million for a 4 week duration. To put things in sizing perspective, this digital Hulk is 25,000 square feet. It's eight storeys high and has the ability to reach more than 300,000 people per day. Although it's not the tallest billboard in the world, it's a pretty remarkably wide billboard that casts illuminating ads on all of Times Square.
Nationwide Insurance in Columbus, Ohio
At first glance one might believe this tremendous and nuanced billboard advertisement is trying to sell some pretty funky paint, but it's not. Nationwide Insurance drove home their slogan, "Life Comes At You Fast" by spilling paint out onto the side of the building, parking lot, and a few cars below. By creating a fake company called "Coop's Paints" in order to get their insurance brand noticed and talked about, because insurance really is a dull subject, Nationwide used a bright, eye-catching, and larger-than-life approach to get people interested. The wallscape method, and aspect of taking over a parking lot underneath, truly adds to the mightiness of it all. An unexpected event like spilling paint is a mistake, so Nationwide is expressing, in a visual metaphor, that they can correct it.
AllState Car Insurance on the Marina Tower, Chicago
The sheer shock value of this billboard advertisement makes it such a big moment in billboard advertising history. By using a car prop looking like it's about to take the last leap of its life, AllState Car Insurance really pushed the boundaries of getting their billboard noticed by everyone below. The slogan, "Are you in Good Hands?" is the followup insurance question to a bad driver taking a turn for the worse right above. The dangling car excites curiosity, and many people across from Marina Tower or walking on street level are left wondering if a real accident just took place. This big billboard creates big fear but little harm, and more brand awareness.
Tylenol in Toronto, Canada
Having an unshakeable headache often times feels like a wrecking ball crashing into your brain, and Tylenol brought this correlation to life in Yonge-Dundas Square in 2008. By using a large crane as a billboard extension to make sense of the wrecking ball, this advertisement made good use of outdoor elements to drive a point home. Though the physical size of the billboard isn't the biggest, it's the use of a crane and a wrecking ball that strengthens the weight of the advertisement. Successfully, Tylenol created a humorous, heavy-hitting, and relatable billboard.
Nike Tugboat in Toronto, Canada
Drawing from another Toronto example, this water billboard represents the strength and agility of the target Nike consumer. The visual message of an athlete seemingly using his willpower to pull the weight of the tugboat creates a determined, and clearly powerful, image of the Nike brand. The size of the billboard is huge, as it's shown to be about 10 times the size of the tugboat in front of it. Overall, the essence of the billboard and the empowerment behind it make it one of the biggest billboards in North America.
From seeing shocking examples, to a more digital one, and drawing on other elements of the outdoors to help hold a billboard up, these five biggest billboards in North America are no shrinking violet.