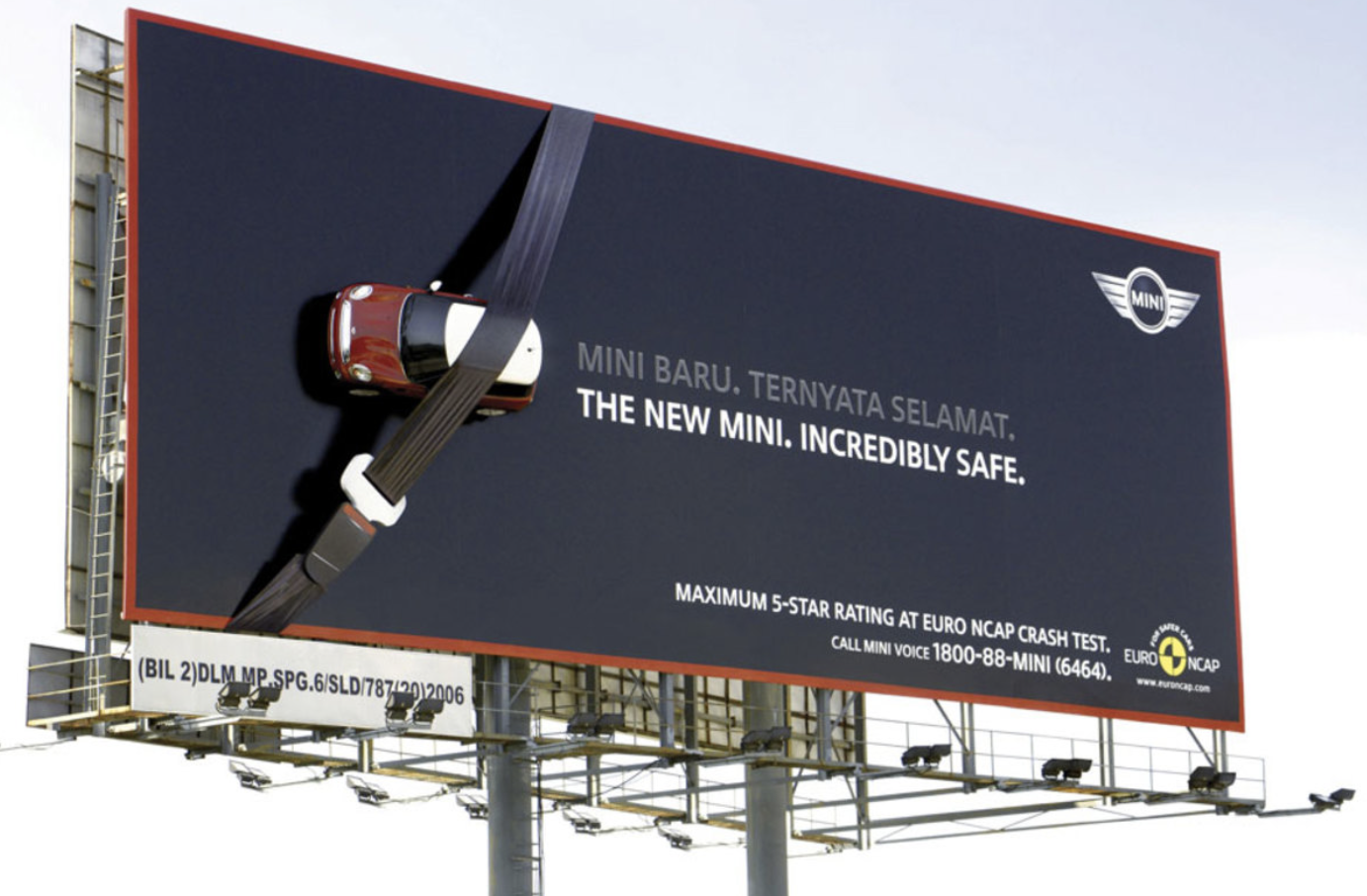 Sometimes you drive or walk by some amazing Advertising work, and you wonder exactly how much money and effort went into such a masterpiece. Some other time, it's so bad that you wonder why it's even there in the first place. Well, I can try to answer to at least one of these questions: How much did that billboard ad you love so much cost?
Notice how I used "try"? I did so because there is no right answer. There are too many factors involved in determining the cost of a billboard ad, and I will delve into a few of them throughout this article. I hope you find the answers you're looking for or at least part of it.
Static Billboards
Static billboards have been around the longest, and so they're somewhat more accessible. There is a lot of them to choose from when it comes to rental. The only problem an advertiser would be facing when trying to rent a static billboard is finding the ideal location. The location will determine how many impressions your ad will have, and it will also define the costs of your billboard. Does the location you chose have enough circulation, demographics and impressions to make your ad profitable?
Let me explain what I mean. Circulation is the total volume of traffic that passes the billboard, and it doesn't include passerby. Demographics refer to a breakout by age, gender, and income level of people who typically pass a billboard. Impressions are the likely number of people who see the ad, based on the size of the billboard, visibility, the speed at which people are passing, and other factors. It's derived from the circulation and the location of the billboard. These three elements influence the CPM or cost per thousand impressions.
In some areas, the CPM will be higher than in others, causing the variation of cost in billboard rentals. In New York City for example, the cost of billboards ranges from $3,000 to $20,000 per month, in Los Angeles it costs from $2,000 to $15,000 per month to put up a billboard ad and in Chicago, you'd spend $2,000 to $12,000 per month for a billboard ad. These are all examples to emphasize how much billboard costs vary from one location to another. Size and material also influence these prices. There are many different sizes of billboards available on the market, but the industry standard display comes as follow :
12 ft. x 25 ft. = 300 square feet
10.5 ft x 36 ft = 378 square feet
12 ft. x 40 ft. = 480 square feet
14 ft. x 48 ft. = 672 square feet
16 ft. x 60 ft. = 960 square feet
20 ft. x 50 ft. =1,000 square feet
Let's say you're using vinyl, which is the standard material used on static billboards because it's weather resistant, for your advertisement. Vinyl costs roughly 50 cents per square feet, which means that if your billboard has a surface of 300 square feet, the material alone will cost you $150. For a billboard of 480 square feet, you'd spend $240, a 960 square feet billboard surface will cost $480 of material, and for a billboard of 1,000 square feet of surface, $500 of material. But before the installation costs, we have the rental fees. Sometimes, the same billboard size will cost $3,000 per months in one location and $5,000 or more in another location. Why is that? The number of impressions, of course. An area with a daily impression of 300,000 cannot compete with one with 30,000 daily impressions.
Digital Billboards
Digital billboards are more recent and also very expensive. They are one of the most profitable forms of outdoor advertising. New York City – Times Square is one of the places with the most impressive number of digital billboards in the same area, and advertisers fight hard to get a spot there even if for a month. Since it's also a tourist attraction, the number of impressions is incredible. In September 2018 alone, Time Square welcomed an average of 390,368 daily visitors. No wonder it's so attractive to advertisers. With this many impressions, you can imagine how it'd cost to advertise there. The cost range to advertise in one of these billboards is between $1.1 million and 4 million per Year, but that's the cost per month for bigger boards. The CPM, however, is rather high, even for this many daily impressions. It's priced at 1.7 cents per impressions, meaning $17 per thousand impressions, compared to that of other places with $2 per thousand impressions. Advertisers would still pay that much for a spot because, with so many visits per day, their ads can easily make 1.5 million impressions daily, and even more when you take in consideration the New Year' Eve ball drop. It's an event that attracts a considerable number of people at Times Square every year.
Seeing the cost of the digital billboard advertising at Times Square can be scary, but you have to keep in mind that it's a very crowded place, so it's obvious that advertisers would pay a premium for their ads to be featured there. More ordinary places, however, have more affordable rates. In some locations, you can rent a digital billboard for a price range of $1,000 to $5,000 per four-week period, and your ad will run every 8 seconds. Other locations would charge you up to $14,000 or more per four-week period. The average CPM for a static billboard is $2.05 while for an LED it's as high as $37.42. See why it's so expensive to advertise on a digital billboard? Also, LED billboards are rented by the minute, and the ad is displayed for only 8 seconds. So in a minute, your ad circulates about 7 times. And you have options as to how many minutes you're buying. For example, some ads can cost you only $1,200 for 648 minutes, while others will cost as much as $50,000 for 2520 minutes.
There are more detailed costs you may want to be aware of in case you want to acquire the material yourself and it breaks down as follow:
-A 2 by 8′ display size DOOH with a pixel pitch of 16mm costs around $4400 per face plus parts and shipping.
-A 4 by 8′ DOOH with a pixel pitch of 16mm costs approximately $7800 per face plus parts and shipping.
-A 40 by 90′ DOOH with a pixel pitch of 10.66mm is roughly $8600 per face plus parts and shipping.
-A 14 by 48′ DOOH with a pixel pitch of 16mm costs more or less $154,000 per face plus parts and shipping.
Bus Shelter
Bus shelter billboards can be digital or static. It's your choice. You can even make it interactive and make the audience have fun with it. It's an effective way to make sure they remember your brand. Plus, it doesn't cost as much as advertising on a billboard on Time Square, that's for sure. For small and medium sizes, you're looking at $150 to $600 per four-week period and $3,000 to $6,500 in high-income areas. However, for digital, it starts at $3,000 and goes up per four-week period. It may seem like a lot, but you have to remember that bus shelters make a lot of impressions as well. Not only commuters, but also bus drivers, pedestrians, and other drivers see them as well. The number of impressions ranges from 9,000 to 17,000 per ad per day. Of course, it varies with every location. Plus, like any other billboard, the prices are negotiable. What's most interesting about bus stop advertising is that you have the option to use only one side of the shelter or the whole shelter. The cost isn't that different, and it'll be worth it when you see the results of your hard work. Advertisers get very creative with it as well, as you can see in the Picture below.
Mobile Billboard
Mobile billboard is a fun way of doing advertising, and more and more advertisers turn to it. Basically, it's your ad going around to make the impressions instead of waiting for the audience to pass by. You have the option of wrapping a car you own, which is the cheapest option of them all. Other options include truck side or truck wrap, buses and any other type of vehicle you can think of. TTC buses advertising, for example, can cost you up to $10,000 per four-week period, depending on where you want it. For king posters on each side of the bus, the rate goes from $415 to $10,800 per four-week period. These prices change according to the specific vehicle chosen and the package you buy as well. They have 4, 12, 24 and 52 weeks packages. For murals and door decals, the pricing ranges from $10,000 to $58,500 per period of 4, 12, 24 or 52 weeks.
Truck side advertising, on the other hand, is more affordable. For a single straight truck (18 – 28 feet) for example, it costs approximately $1,750 to $25,000, depending on the package bought. For semi-trailers (48 – 53 feet), you'd spend around $2,350 to $35,000 according to the package you opt for. These are just approximations, so you should do more thorough research if you want to find out more. You can begin here for rates and tracking information.
References:
http://info.haulerads.com/moving-billboard-blog/how-much-does-it-cost-to-rent-a-billboard-in-2019
https://www.investopedia.com/articles/investing/022315/high-cost-advertising-times-square.asp
http://info.haulerads.com/moving-billboard-blog/how-much-does-it-cost-to-build-a-digital-billboard
https://www.bluelinemedia.com/bus-advertising/bus-stop-shelter
http://info.haulerads.com/moving-billboard-blog/how-much-does-a-digital-billboard-ad-cost
https://www.blogto.com/city/2010/10/ever_wondered_what_it_costs_to_advertise_on_the_ttc/