Digital Out-of-Home (DOOH) advertising has been increasing in popularity and scope over the past five years. This is because the medium has become easier to use, more creative, and better at targeting any given demographic more precisely. Add a global pandemic into the mix, and the use and the development of DOOH increases at an even faster rate. Consumers are still only going outside to buy essentials items and are not necessarily paying attention to the world around them when they leave their homes. This is why it's more crucial than ever to create advertising that is creative enough and targeted enough to incite engagement and recognition. DOOH is now able to do this, and advertisers are beginning to take notice. According to Insider Intelligence, DOOH ad spend increased by 1.6% in 2020 and is predicted to grow by 19.2% in 2021. Let's take a look at how DOOH advertising is becoming dynamic in a world where personalized advertising is now imperative for any brand to survive as well as some amazing examples of companies that have used DOOH advertising in the past.
What is dynamic OOH advertising
Dynamic OOH advertising allows brands to adapt their creative ads in real-time to fit perfectly with what consumers are experiencing. For example, it's a blazing hot summer day and you walk by a DOOH billboard that's displaying the temperature and telling you that it's time to get a McFlurry. Or it starts raining outside and the billboard you walk by changes to tell you where the nearest cafe is to get dry and try their warm beverages. OOH advertising is becoming extremely intuitive in order to meet the needs of consumers. In this way, OOH ads are becoming less of a sales pitch and more of a helpful tool.
This kind of flexibility has been very helpful during the COVID-19 pandemic. Since this is a type of virus that we've never dealt with before, we've had to continuously change the way we live in order to stay safe and healthy. The rules and regulations are continuously changing and so companies, brands, and businesses have also had to constantly change the way they sell their products. Dynamic OOH advertising allows them the ease, affordability, and flexibility to be able to change their policies and their messaging on a dime. For example, when restaurants shut down for dining, they could quickly change their DOOH ads to promote their delivery options instead. Dynamic OOH advertising has been revolutionary for all companies who've had to change their tactics during the pandemic and will continue to be used in the future because of how beneficial and successful it's been thus far. According to Statista, projected ad spending on DOOH will increase from $6.7 billion U.S. in 2019 to $15.9 billion U.S. in 2027. The numbers speak for themselves.
Relevancy matters
Now that people are spending approximately 5.7 hours a day looking at their devices, which has increased even more since the pandemic started, consumers expect to see relevant and useful content wherever they are. According to Posterscope, 49% of young adults notice messages if they are more relevant to their current situation, while 40% of adults want more brands to display content relevant to them. We've become accustomed to the ease in which relevant information is provided for us. A lot of advertising mediums struggle to stay relevant for this exact reason. Online, television, and radio ads can't provide the same kind of real-time content that DOOH can. Pimm's created a live feed using footfall trackers in nearby pub gardens in order to guide commuters to their bar after work and saw a sales increase of 13% because of it. The future of advertising is to be connected to consumers in a way that is intimate without being invasive. It is important to understand and anticipate their wants and needs before they do. That's why dynamic advertising is thriving and will continue to thrive – it's the easiest and most effective way to track consumer habits on a large scale.
OOH guides online engagement
Media buyers that include OOH advertising in their media mix, whether that be DOOH advertising or traditional, see an exponential increase in their effectiveness. According to ALFI, mobile ads see a whopping 316% increase in campaign effectiveness. People who are intrigued by a billboard, DOOH screen, or truck-side ad will immediately pick up their phones and search the brand or the campaign online.
Nowadays, dynamic DOOH ads have seamlessly integrated online advertising into their campaigns by including QR codes and links to websites. Not only does this provide an engaging and easy way for consumers to interact with your brand but it also helps your company to track impressions and gain detailed analytics on the campaigns that you run.
The opposite is also true. Online companies need to connect with their customers, especially when the online world is oversaturated with advertising already. Dynamic DOOH advertising can promote your online company while creating a more visceral and appealing experience for consumers. For a more in-depth analysis of how and why online-based companies use OOH and DOOH advertising in their media mix, check out this link.
Programmatic can be a part of the dynamic experience
The process of buying and selling OOH advertising has also become easier than ever. The programmatic process allows advertisers to log into a platform and select their campaign details, scheduling, targeting, placement, and more in a few clicks. It also allows advertisers to bid on specific advertising spots and times. The whole process is straightforward and takes almost no time to complete. It takes the hassle out of planning an ad campaign and can allow advertisers more time to spend on the creative aspects.
Again, in relation to COVID-19, advertisers have had to alter and revise their campaigns over and over because of the changing rules and regulations of the pandemic. This is why companies like PepsiCo have pivoted their future marketing strategies by "game-planning lots of different potential scenarios based on where we are with COVID-19, where we are with the economy, and how consumers are feeling." Programmatic advertising is one way that makes the whole process of planning multi-faceted campaigns possible and much easier to implement.
Dynamic DOOH examples
Let's now take a look at some dynamic DOOH campaigns that have been successful in their execution and their ability to increase ROI and engagement.
With the help of Grand Visual, Waitrose, a British supermarket company, launched a dynamic DOOH campaign in 2020 that emphasized the quality of their food and the treatment of their farm animals. Being the first of its kind, the campaign included live-stream footage from Waitrose's farms that was displayed on 9 large DOOH screens across the UK. The footage showed cows and free-range hens going about their day with a quote at the bottom of every screen saying, "everything we do goes into everything you taste". Through this dynamic campaign, Waitrose was able to show audiences all over the UK how fresh, well-produced, and animal-friendly their food is rather than just telling them.
McDonald's used weather data and the time of day to run a campaign to promote their breakfast menu as well as their ice-cream sundaes. They created DOOH billboards that ran messages reminding consumers to take a break in the morning with signs that read, "how long until breakfast finishes," as well as a time tracker that counted down the time until the breakfast menu was no longer available. The billboards would change depending on whether or not the sun was shining in order to promote their ice cream sundaes. The billboards would also display the temperature and underneath would say, "Get ready, it's another hot one!". By maximizing contextual relevance, the campaign was able to provide the best value to passersby.
Facebook Israel teamed up with Taggbox Social Wall in order to execute a DOOH campaign for a social cause. During pride week, Facebook Israel displayed social media content including photos, videos, and live updates from around the country that showcased people's ideas and experiences relating to pride week. Posts from Facebook were displayed on large DOOH billboards along with the text, "Pride connects us", and, "Love is love". Facebook wanted to demonstrate to their users that they are a medium that empowers users to embrace the LGBTQ+ community and they found that the most engaging and powerful way to do so, was through DOOH advertising.
As part of Skoda's "Do Something Different" campaign, they used digital billboards to let passersby know how long it would take to get to one of four locations in the UK. Using live traffic and location data, Skoda provides passersby with the approximate time it would take to reach London using Skoda's vehicles. The billboards were placed in airports across the UK and the information on each billboard would change depending on traffic, location, weather, and more. The campaign was straight-forward and simple but it helped viewers get where they wanted to go in the most efficient way possible.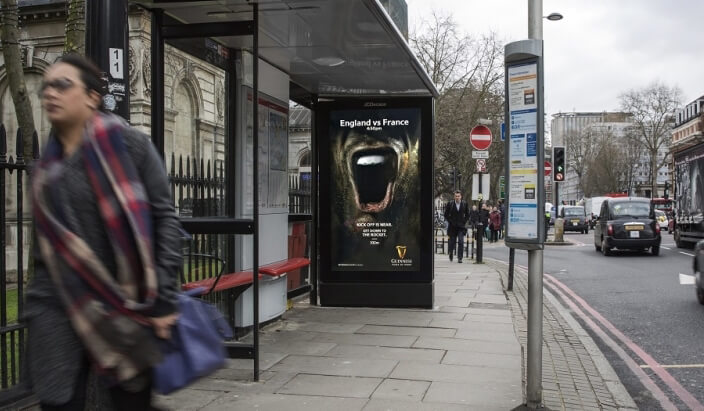 Carat and Posterscope created a dynamic DOOH ad campaign for Guinness during the Six Nations Championships for rugby. The DOOH signs they used directed fans to nearby pubs to watch the tournament. The dynamic billboards alerted passersby of upcoming matches and their respective kick-off times as well as the distance it would take to walk to a local pub. Participating pubs would then use sensors to capture footfall data and when they got too full, would trigger a change in the DOOH creative to direct fans to other venues. This campaign was exceptionally intuitive for both the pub owners and the viewers who would now be able to know, in real-time, exactly where and when to go during the championships.
To conclude
Consumers are becoming more and more expectant of advertising to be intuitive and seamlessly easy to interact with as DOOH advertising becomes more popular. Dynamic DOOH advertising is making it possible for advertisers and consumers alike to engage with advertising in a more profound way. Additionally, the wide breadth of consumer data that advertisers now have access to is also making it easier for advertisers to interact with their target demographic.
Now that dynamic advertising is becoming so popular, it will be interesting to see what kind of next-level DOOH displays advertisers will come up with in 2021.