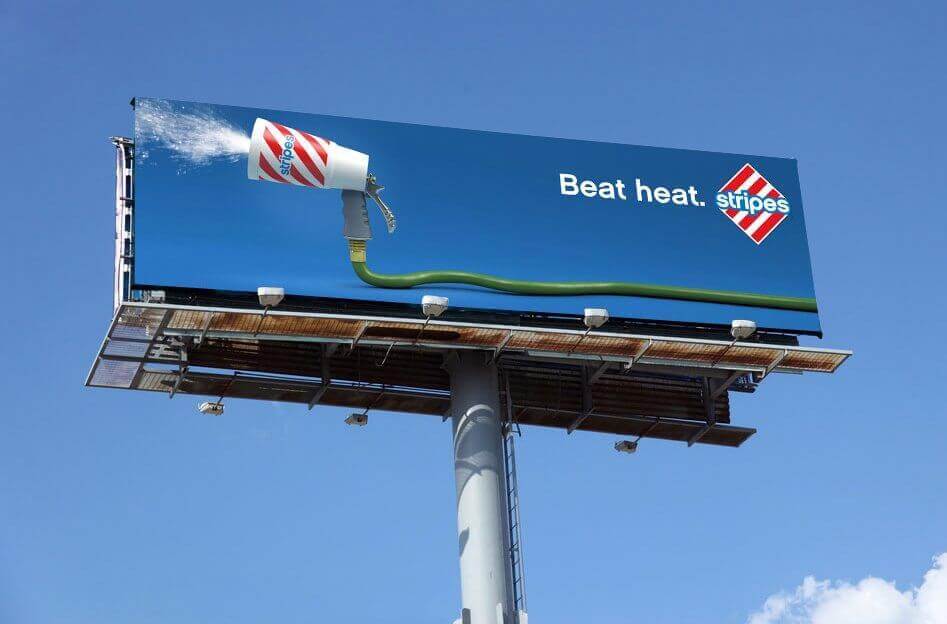 The Summer season is the best time to come out with loud, eye-catching, creative ads. Should it be through billboards, vehicles, or just on the side of a wall, all will be sure to help in your advertising efforts. It is a proven fact that sales increase during the Summer, be it through more people being out walking around, or on vacation, few things motivate consumers as beautiful weather does. Therefore, it is essential to be prepared for the Summer with a proper strategy to execute so that you are in the best position possible going into the summer months.
In this article, I will be going through a few creative Summer ads to give you a better idea of what to expect and what you should consider striving toward should you want to have a successful Summer where you have increased your brand recognition and sales.
Start Planning your Ads in advance
To come up with the best ads for your brand during the Summer, you must make sure to be prepared well in advance. The Summer is the time to advertise; as such, you must give yourself ample time to come up with the best and most creative ads you possibly can.
Just like any campaign, you need to go in deciding how much you wish to get out of it. Through this, you can, not only, manage your expectations, but you can prepare the right budget for your ad campaign. Knowing that the Summer sees an increase in sales, it could be beneficial to want to leave a slightly larger budget for Summer ad campaigns. Once you've set out a specific budget, the fun part starts. Now, you can start planning the kind of campaign you wish to execute. Do you want to increase sales? Make your brand more recognizable? More web traffic? All of these require specific marketing strategies. But since its the Summer, your best bet is to do something outdoors. Not only that, do it loud and do it proud! It is important to remember that many businesses understands the importance of the Summer market, so many will be out with their most creative ads during the Summer months. That's why you need to make sure that whatever ad campaign you end choosing, you do it to its fullest potential. Be that, loud colours, catchy headlines etc. As long as go outside of the box, you'll be sure to impress.
Another significant factor to keep in mind is the audience you're planning on reaching out to. Understanding your demographic is critical when wanting to have a successful campaign. As such, you must have the correct data letting you know exactly who to market too.
Now that you have you have prepared all of the logistics, the fun part begins. Now is the time for you to flex those creative muscles and show the world what you are capable of producing. At the end of the day, if you have a creative ad it is going to connect with people. And if you can achieve that, you will increase its popularity, and hopefully potential consumers will want to know more about what you are selling. Some tips to help you get started: you should clearly convey what you're selling and why people should care, speak the audience's language, be able to create an emotional response with people, and be able to visibly show potential consumers what your brand can do for them through your creative ad. Following these industries do's you will be sure to on the right track. So, be confident and express your brand to the best of its creative ability.
In the next section, I will be going into depth on some examples of creativity in outdoor ads for the Summer.
How to be Creative
Being creative is never easy. And trying to do it on a large scale only increases the pressure. So wanting to come out with creative ad campaigns is not something you will be able to come up with over night, however, with some of the examples I will going through here, you will ensure that you have taken the right first steps.
You should take the following examples as forms of inspiration to add to your own campaign. These examples will be sure to help you get creative ideas into how to develop your own campaign with the Summer in mind.
Did somebody say, extremely creative and funny? The first ad that I will be going through is a prime example of an ad that combines its product with Summer. Viewing this image of a watermelon that looks like it is a bathing suit will be sure to have some heads turning. More so than that, it will be sure to have any passerby wondering what this ad is from and who created it. Leading them to learn more about your brand and product, which in turn, increases your chance of making a sale and potentially adding a loyal customer. So, look at this ad from Calgary Farmers Market to gain some inspiration for your own campaign.
Next up, another brilliant ad that utilizes fantastic graphic design skills to add multiple meaning into one graphic. At first look, you might think that the yellow thing at the bottom is a raft, then, maybe, you look again, and then you think it is a hotdog bun. The more you look at it, the more confusing it might get for you. This is the genius of this ad. You are able to get something new out of it every time you look at it. It is combining a popular Summer food of hotdogs and a popular Summer activity of rafting. Through this, you are able to advertise two completely different things in tandem. And if you can not tell, there is a tagline at the bottom stating "An essential part of all your Summer activities". The one-liner beautifully combines these two things and bring them together for Summer. Something as well constructed as this will be sure to help your creative idea to flow.
Now, this ad really pushes the envelope for exceptional creativity in outdoor ads. If you can't tell what is going on here, Sprit set up these portable showers and packaged them as a Sprit dispenser. And the best part, if any of the individuals use their showers they would get a free bottle of Sprit. The ingenuity of this ad greatly encapsulates what it means to use the Summer for to your advantage.
It is always safe to assume that McDonald's will take part with great ads. They have been at the forefront of excellent ads for decades, so you know they know how to utilize the Summer season. The ad above is a genius ad that is literally advertising the sun. As you can see, this outdoor ad can be folded the same way blinds are utilized when it is too sunny outside. And the people waiting at the bus station could manually adjust the ad. So not only is it highly creative, it is also interactive. Really pushing for engagement with the people interacting with it. While McDonald's is a household name and is one of the most recognized brands in the world, this ad for sure helped increase sales for the Summer drink they were advertising. Having customers going into the store to buy this smoothie will also helps increase their general sales as they will be seeing more foot traffic during the Summer and people tent to buy more than one item when they walk into such stores..
This Lipton campaign for its iced tea peach flavour is another creative interactive ad by a household name. Lipton, similar to McDonald's previous ad, decided to utilize the billboards at bus stops to market this Summer campaign. As you can see, there is a big red button on top of the Lipton drink, and, as many of us know, it is almost impossible to curb the itch of wanting to smash that red button. Moreover, after you have pressed the button a fresh spray of water is released, giving off a "refreshing feeling". So on top of interacting with a great Summer ad, there is the strong chance that after you interact with this ad you could start associating being refreshed with a Lipton iced tea. Having an ad as unique as this would of been sure to increase Lipton's sales during the Summer months and has led to an overall successful ad campaign. Genius advertising.
The interactivity continues. This magazine ad brilliantly utilized solar panels placed on the back of a magazine to be able to create a charging hub for devices. The ad shown above was a Nivea ad for sunscreen and as you can see you connect your phone to the front of the magazine where you can clearly see the campaign they are advertising. On top of that, you can see the way that Nivea are not only advertising their sunscreen but also the power of the sun through the solar panels ability to charge your phone efficiently using a charger that is connected to a magazine, of all things.
Time to Execute
Now that you have seen great examples of creative outdoor ads that do not only advertise their products brilliantly, they also do it through the theme of Summer. They beautifully encapsulate Summer and their ad in an extremely compelling way. On top of that, they are also able to add an interactive element to their ads, leaving their people interacting with them more interested and emotionally invested, which greatly increases their chances of making sales and increasing their brand recognition.
The Summer is the perfect time for you to up your game. To go through some more convincing data about the importance of marketing during the Summer, there has been an increase of 3.5% in outdoor advertising in 2018 alone. Not only that, advertising outdoors will improve your reach on TV, radio, internet and mobile, by 18%, 68%, and 316%, respectively. These figures should be able to easily convince you of, not only the importance of Out-of-Home (OOH) advertising, but due to OOH advertising during the Summer months. If you are still not convinced by what has been presented in this blog post, you should hear it from the mouth of the Chief Marketing Officer for the Outdoor Advertising Association of America (OAAA), "Advertisers have seen OOH [out-of-home advertising] embrace innovation in all parts of its business and are excited about the medium's dynamic mix of displays and endless creative possibilities".
In Conclusion
Now that you have seen what is required to complete the necessary steps to have a successful campaign and you have seen great examples of previous OOH Summer ads that have been incredibly popular, you should be set-up to start your own creative outdoor ad that will be sure to have heads turning and people talking.
As long as you have planned accordingly, there is no reason you can't produce an ad that is as creative and original as any of the ones discussed above. Happy Summer advertising!
Keywords: Out-of-Home, Creative, Summer Season, Advertisements.
References:
https://www.helloprint.co.uk/blog/9-creative-summer-marketing-campaigns/
https://bubbleoutdoor.com/how-to-get-the-best-out-of-outdoor-advertising-this-summer/