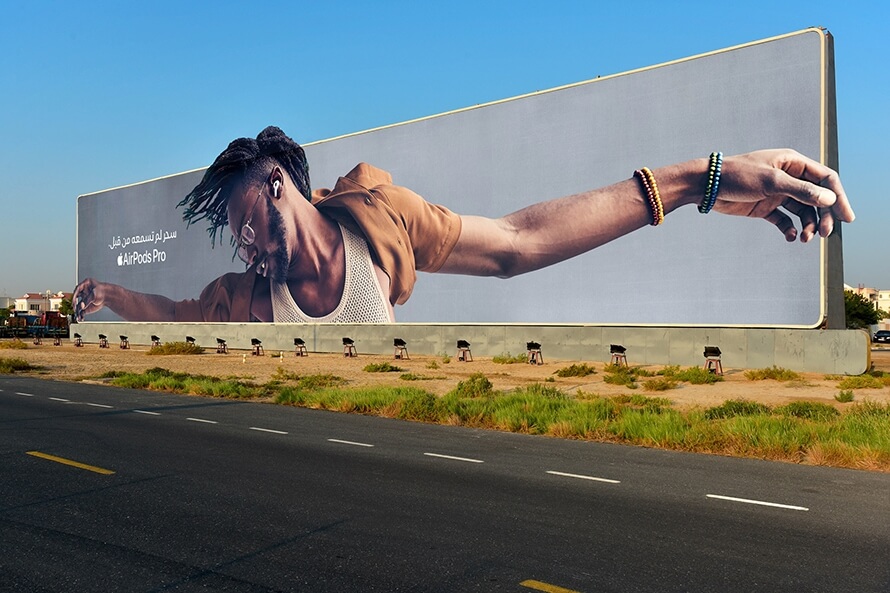 In the age of innovative digital technology, you would think that smartphone brands would focus a lot of their attention on mobile advertising to reach their target audience. Wrong. While it may seem ironic, tech companies like Apple are standing out by integrating their marketing campaigns with out-of-home (OOH) advertising. According to the Outdoor Advertising Association of America (OAAA), the top 10 advertisers in the first quarter of 2020 were Apple, McDonald's, Geico Amazon, HBO, Facebook, Coca-Cola, Google, American Express, and Progressive. What do all these companies have in common? They're the biggest and most profitable companies in the world – and they know that by including OOH advertising into their media mix, they will continue to be at the top of their game. One of the biggest tech giants in the game, Apple, has created a few of the most creative, innovative, and admirable OOH ad campaigns out there. In this article, we'll take a look at why and how Apple has used OOH advertising to inspire, create, and engage generations of iPhone users.
Why use OOH
In an oversaturated and overstimulated society, gaining people's attention is extremely difficult. One way that brands, like Apple, have been challenging this is by engaging consumers in their ads. The most effective way of getting people involved in an ad, is by using OOH. This is because outdoor advertising intersects with audiences on a daily basis in an unavoidable way, regardless of spending habits. What Apple has done to transform the capabilities of this traditional media form is by creating OOH ads that are awe-inspiring and that invite consumers to participate. The "Shot on iPhone" campaign, for example, was made possible only with the contributions of its audience. Now more than ever, brands have the ability to use OOH advertising to create both dynamic and contextual campaigns, which are more meaningful and important to consumers. This means leveraging multiple advertising mediums, not just one, which helps to gain a wider reach and higher ROI. A recent study conducted by The Advertising Research Foundations found that a combination of traditional and new media ensures optimal campaign effectiveness. The optimal media mix includes 22% digital and 78% traditional media. Even in today's digital world, traditional media reigns supreme – because digital reaches consumers when they're online, but OOH is what inspires them in the first place. Now how do we inspire and engage? With great creative. According to a recent Blue Bite article, 75% of ad impact is determined by creative quality. This is something that Apple does a sensational job on. Through the use of OOH, their advertising is bold, vibrant, large-scale, and impossible to miss. This isn't possible with any other medium.
Now, let's take a look at some of Apple's most iconic and well-received OOH campaigns to date — and how the world stopped, watched, and appreciated the tech mogul's magic.
Shot on iPhone Campaign
One of the most iconic and innovative OOH campaigns to date was created back in 2016 by Apple for the release of the new iPhone 6 along with its high definition camera. The campaign was called, "Shot on iPhone", and included 10,000 billboards that incorporated photos taken by 77 users across 25 countries and 73 cities. iPhone 6 users were encouraged to submit their best-shot images through social media with the hashtag, #ShotoniPhone, for the chance to get their snapshots displayed on a billboard. The campaign was big, bold, and beautiful, while at the same time, engaged their audience in a fun and enticing way. The campaign didn't stop there, shortly after the launch of the "Shot on iPhone" campaign, Apple showcased a whole set of new photographs with the release of the iPhone 6 and 6s. Apple encouraged iPhone users to then submit their best photos of intense colours, which were then displayed across numerous countries and were meant to highlight the new colour options of the iPhones.
More recently, in 2019, Apple continued the legacy of the "Shot on iPhone" campaign with a behind-the-scenes glance at performing artists through the same style of OOH ad. The campaign included backstage footage — that was then uploaded to Youtube — and photography — that was placed on billboards — of some of the most popular contemporary artists and bands, including Florence + the Machine, Kacey Musgraves, Tyler the Creator, and more. The images and videos were meant to offer a behind-the-scenes micro-documentary to fans, while at the same time, promoting the use of the iPhone to do so.
Even more so, at the beginning of 2019, Apple encouraged iPhone photographers to send in their best photos for the "Shot on iPhone Challenge", which would highlight the 10 best "Shot on iPhone" photos – capturing the most remarkable moments with the most popular camera. The 10 winner's photos would then be displayed on billboards in select cities, in Apple stores, and online. It was quite the prestigious prize, and one that had everyone excited and involved. The winning photos were chosen from a range of iPhone models, from the iPhone XS to the iPhone 7, and from users all over the world, from Singapore, to Germany, to Israel, and elsewhere. This continuity of the campaign over many years and many different variations is a very strong testament to Apple's successful marketing skills in terms of its creativity, execution, and engagement. The entire campaign has been mentioned by 24,000 opinion leaders, has had an estimated 6.5 billion media impressions (and counting), and has won the prestigious Cannes Lions Outdoor award for its creativity and prowess in the advertisement world. Just like the company itself, this campaign is constantly innovating and rapidly changing to meet the creative, forward-thinking, innovators of today.
Apple's privacy ad campaign
Right before CES 2019, the largest electronics show in the United States, Apple created and displayed a message on the side of a large high-rise building in Las Vegas. The ad reads, "What happens on your iPhone, stays on your iPhone" and includes a website link that goes to Apple's pages on privacy policy. The message came right after the United States Justice Department attempted to force Apple to unlock the iPhone used by a shooter in the San Bernardino terrorist attack back in 2016. Apple refused. This statement by Apple, along with the fact that the ad was located on a building that overlooked the CES 2019 and that played on the slogan, "what happens in Vegas, stays in Vegas," sends a strong message to its users and to other tech companies. Apple wanted to call attention to the failure of other electronic companies, like Google and Facebook, when it comes to consumer privacy and reiterate their mission to protect consumers' private data. After the major online discussions and buzz that surrounded this OOH message, Apple took their privacy campaign to Canada where they displayed various billboards that read messages like, "Privacy is king," and "We're in the business of staying out of yours". Many of the billboards were deliberately placed near Google headquarters in order to further establish them as rivals and advocate for user privacy. 
What's more is that Apple took their privacy campaign to Europe as well. The tech giant geniously set up billboards in Hamburg that draped across ports like a banner that read, "The gate to the world. Not to your information", and in Berlin billboards across buildings that read, "Privacy. This is iPhone". Again, Apple reiterated to everyone that it aims to minimize the collection and use of customer data. The entire campaign was not strictly intended to get customers to buy the product, it was instead meant to inform those that have bought into the company or are thinking about buying into the company, that Apple is safe and that they're making the right choice in trusting them. Apple confides in OOH advertising to communicate this message in a big and bold way, which without the use of location-based advertising, could not have been done.
"Behind the Mac" campaign
What was once a small campaign that started back in 2018, has now become a massive running marketing tactic to promote Apple's Mac laptop. At its inception, "Behind the Mac" was a way for Apple to showcase the many different ways that creative professionals use their Mac to create. Similar to the "Shot on iPhone" campaign , Apple places the importance of the ads on the consumer's story, rather than on the product. Each personal story demonstrates the many ways that Mac helps to inspire and empower creators to make something unique and amazing — whether that be music, app development, or any number of things. The first ads back in 2018 debuted on the company's Youtube channel. They were then displayed on billboards and on the sides of buildings all over the United States. More recently, "Behind the Mac" returned during quarantine to showcase artists, like James Blake and Tyler Mitchell, and the way they use their Mac's to create music at home. Just like many other OOH campaigns by Apple, this one also lives on and continues to evolve as the company does. And again, the big and bold photos combined with the simple text and message is what has captured generations of Apple consumers and what will continue to do so into the future.
Recap
Upon looking at some of Apple's most beloved OOH ad campaigns and breaking down why they've favored OOH advertising, it comes as no surprise that they are one of the largest and most popular tech companies in the world. The simple reason for their marketing success is that their advertising resonates with people! Consumers notice the big, bold, creative ads — and they appreciate it. Consumers also love being involved in and engaged with the advertisements they see, which is what Apple is so good at doing. Not to mention that, with the ability to place an outdoor advertisement wherever, Apple uses this to their advantage to place their OOH ads in the most strategic way — so that everyone can see them, including their competitors. Some of the largest companies in the world, alongside Apple, continue to increase their OOH ad spend year in and year out. Although it's one of the oldest forms of advertising, it has proven year after year that it's just as important to a company's success as any other form of advertising—if not more important. If a company like Apple has become so successful while championing OOH advertising, there's no reason for other aspiring companies not to invest in OOH, regardless of the industry. Take Apple's word for it, think different.